APIs for your business needs
Integrate various eSignature processes and beyond: SMS services, Secure Login, KYC (Know Your Customer), and AML (Anti-Money Laundering) inspection.

Automated processes
Sign and check the validity of thousands of documents with a few clicks and get important information about your business processes.
Everything in one place
Integrate ready-made solutions into your system and enable customers to sign documents, and identify or perform AML checks, all within your website.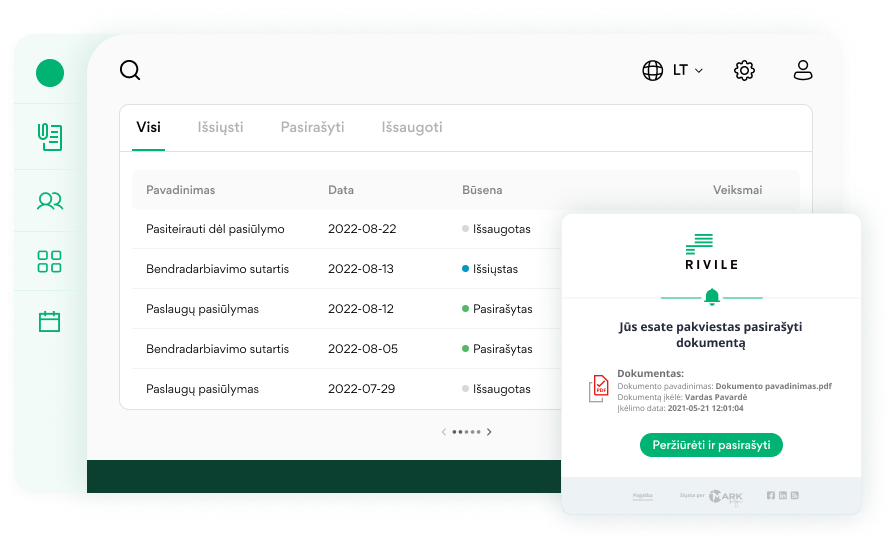 1

Document management in your business workflow via API
1.1. Create the desired user interface according to your needs
Create the desired eDocument management solution via our API solutions in your organization's workflow
For increased security, you can only send document hashes to our API endpoint.
1.2. Use the built-in user interface
Save your internal resources and time by using our eSignature document signing plugin.
5

SMS Services
We have created a solution for your convenience to send messages with your specified company name to quickly communicate with customers and partners. We also have a solution to facilitate two-factor authentication on your system.
6

Identity Verification
Verify the customer's identity remotely in just a few minutes with an ID card, passport, driver's license, or residence permit, and download the verification report.
7

Anti-Money Laundering (AML) Screening
Manage company risks and check whether the company, individual, and persons related to it participate in politics (PEP), are on sanctions and other watch lists, and have negative media (adverse) media records.
8

PHP Gateway
A library for your needs, which, after installing it in your systems, enables you to use the API capabilities quickly and conveniently.